Finding cool pet products is basically in our DNA. Since purrch is a pet-first social media app, our users are always discovering and sharing new pet finds—like treats that make training way easier, amazing pet gadgets, and even eco-friendly pet toys!
You can always find (and purchase) these recommendations on the purrch app itself (and can even suggest your own), but we wanted to take the opportunity to showcase a roundup of some of the most awesome pet products (from our purrchPartners) recommended by our users. Shop away!
ModernBeast Woolbone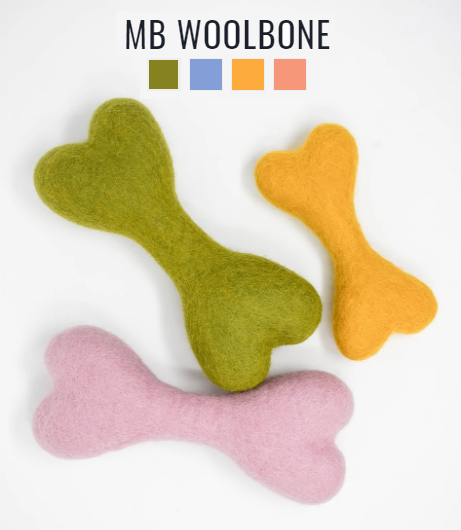 From absolutely adorable pet toys that hold up to the roughest toughest chewing to bandanas that'll have your pet looking stylish wherever they go, ModernBeast is a wonderland of cool pet toys. Even better, this female-founded, compassionate brand gives back 100% of its profits to 501c3 animal charities. We are so proud to have them as a purrchPartner!
It's so hard to pick just one pet product to feature, so we're zeroing in on one of their bestsellers: the Woolbone ($13). This stylish, eco-friendly, and 100% wool bone is non-toxic and odor resistant to stand up to even the most exuberant of dogs.
Town & Trail Air Dried Beef Treats
Let's talk about Town & Trail's Air Dried Beef Treats ($22) a must-carry item for dog walks, happy hour, hiking trails, play dates, and beyond. This protein-rich treat is made with five simple ingredients: human-grade beef (only the best for our pups), vinegar, salt, spices, and rosemary. Talk about a yummy treat!
Earthly Earthbones Dental Chews for Dogs
In addition to those beefy treats above, it's also a good move to keep dog dental chews on hand for Fido.
Earthbones Dental Chews For Dogs ($24.99) not only helps with stinky canine breath —if you know, you know— but it also helps fight plaque that can lead to canine dental issues. By the way, did you know that 80% of adult dogs suffer from dental disease? Regular teeth brushing, routine cleanings, and dental dog chews like these can help. We love the simple ingredient list of these small bone chews—no additives or filler ingredients here!
Cat Sushi Thick Cut Tuna Cat Treats
You didn't think we'd leave the felines out of the yummy pet treat game, did you? Of course kitty cats love sushi! So what better treat to give them than a yummy 100% tuna that's been dehydrated and broken into easy-to-nom-on bites?
We love that Cat Sushi's Thick Cut Tuna Cat Treats ($7.99) are high in protein, low in fat, delicious, and not full of filler ingredients that aren't ideal for your sweet feline.
Sad Puppy Face Apparel
Sad Puppy Face makes it a cinch to beam with dog breed pride! They create apparel items—including crewneck sweatshirts, hoodies, crops, tanks, onesies, and hats —that feature your breed's face on them.
From Australian Shepherds to Yorkshire Terriers, there's a solid chance your breed's already been represented. These are fun finds for yourself, but they also make excellent gifts for the dog enthusiast in your life. Prices range from $25 to $45 for apparel, which you can shop for here.
Do you have any favorite cool pet products you think others should know about? Hop onto the purrch app—the world's only pet-first social media app—where you can shout out cool brands, awesome places, and connect with other pet enthusiasts just like you. Our wag-happy community is ready to welcome you with paws wide open!
Have a personal experience related to this food?
Share your experience on the purrch app and help other pet parents like you!