Seeing an animal wearing a tiny little sweater or a wee-sized pair of boots is obviously one of the cutest things in the world. A lot of the times, though, wearing clothing or accessories is more than a fashion statement—it's a matter of comfort and safety!
For example, if you live in a cold climate, then your animal might find it's easier to stay warm with an extra layer or two. This is especially true if you need to wander outside for routine walks and potty breaks. Even wearing a thin t-shirt inside can help keep warm when temps are low, and sometimes provide a sense of comfort and safety.
Below we've rounded up six animal clothing and accessory items that are just as functional as they are stylish. You might want to ask your pet to start practicing their best Zoolander face.
Rain Jacket
Nobody likes to be caught out in the rain—pets included. A water-resistant jacket will quite literally keep the rain off their back while also keeping your pet from feeling chilly. (It also prevents the wild, messy "shake it off" moment when they come back inside.)
Frisco's Rainy Days Dog Raincoat ($13.99) is the perfect shade of sunshiny yellow and it comes with a little hood, too!
Pajamas
Think about the function pajamas serve in your life, and now think about how your pets can benefit from the same! In addition to helping your floof stay warm, they also create a feeling of being "tucked in" and cozy. Another benefit of pajamas is that they help keep fur off your couch, bed, and blankets!
The Wagatude Pink Little Lamb Onesie Dog Pajama ($16.99) is an easy pullover style that comes in all sizes.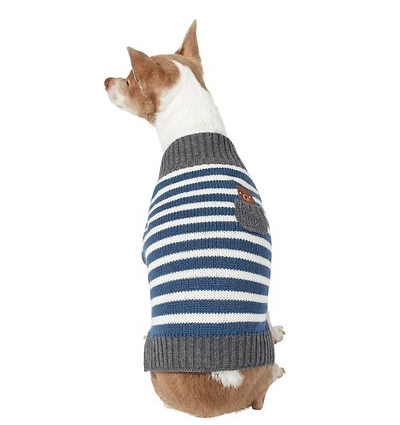 Sweaters
If your pet tends to get cold even when hanging out indoors, let a sweater come to the rescue. They come in so many adorable designs and will help your pup feel cozy, calm, and comfortable.
We're digging this Wagatude Blue Striped Pocket Bear Dog Sweater ($18.99) which features a soft acrylic material, a real pocket (for treats?), and a pullover design.
Booties
Walking barefoot on ice, snow, salt, or hot pavement doesn't sound very fun, right? Your pet feels the exact same way. Booties are a great way to help protect their little paws from the elements. While there might be an adjustment period, it's worth the effort. (Also, please share your pictures and videos of said adjustment period because it's always cute.)
You can try something like Ultra Paws Durable Dog Boots ($31.95) which are reusable booties.
Alternatively, you can opt for something like Pawz Waterproof Dog Boots ($14 for 12). Both also help with traction control, and the latter option comes in handy to prevent biting, chewing, and licking.
Coat
When a simple t-shirt or jacket won't suffice, it's time to call in a more robust option! A winter coat with insulation will help keep your pet warm even in the most frigid conditions. We like this Touchdog Sherpa Designer Dog Coat ($42) which has a fleece outer shell, Sherpa fleece trim, and insulated Sherpa fleece lining.
Or you could set your pet up for that apres-ski life with something like this Sporty Vintage Aspen Dog Ski Jacket from Pet Life ($39.99). Umm…Gigi who?
Doggles
We'll give you a second to compose yourself because yes, this is might just be the most adorable pet invention in the world! Doggy goggles offer UV eye protection for your pets, which can help keep their eyes healthy for longer. They also come in handy on car rides or motorcycle rides for pets who like to catch a breeze, and are helpful when playing in water, too.
Doggles ILS Dog Goggles ($24.99) are shatter-proof, anti-fog, and vet-recommended. They're especially helpful if your pet has an eye disorder or sensitivity.
Have a personal experience related to this food?
Share your experience on the purrch app and help other pet parents like you!