(photo credit: The TWA Hotel at JFK Airport)
Traveling with our pets is an absolute joy, but finding hotels that allow dogs (and even cats!) can be a bit tricky. If you're heading to the big apple and are seeking dog-friendly hotel rooms, you're in luck. We've put together a list of pet-friendly hotels in NYC that you and your fluff can enjoy together.
(Psst! Not able to take your pup with you? While you're away, consider making a reservation at a dog hotel. It's a bit of a splurge, but hotels for dogs are created specifically to help your canine remain calm while you're gone. They'll get their own room, complete with a bed, and get ample cuddles, walks, and treats. Some options include Hotel Bark Ave and New York Dog Spa and Hotel.)
1. INNSiDE by Melia New York Nomad
One of our favorite hotels that accepts dogs is INNSiDE by Melia New York Nomad. This luxe hotel is the flagship property for Melia Hotels International, a dog-friendly hotel chain that's partnered with Paw.com. This thoughtful partnership makes Melia one of the best pet-friendly hotels in New York City! Throughout the hotel, you'll find stylish, high-quality pet products that create a cozy and comfortable stay for both two and four-legged guests. (photo credit: New York Nomad Hotel)
Explore this dog-friendly NYC hotel.
2. The High Line Hotel

Chelsea's a major hotspot in New York City, and its famed The High Line Hotel is a must-visit for a few reasons. Not only is it a hotel that allows cats and dogs, but it's smack-dab in the middle of bustling action while still feeling peaceful. It's attached to The High Line, a beloved public sanctuary ripe with nature and art. The hotel itself features a cocktail garden and there's a nearby dog park, as well. (photo credit: The High Line Hotel)
Check out this pet-friendly hotel in New York City.
3. The Roxy Hotel NYC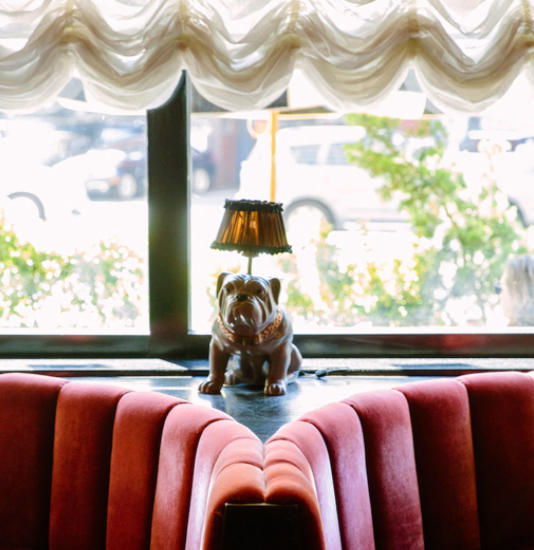 When you and your fluff check into The Roxy Hotel in Tribeca, you'll be greeted with a glass of rose and tasty dog treats from New York City's own Bocce's Bakery. Your pup will also enjoy cozy, pet-approved bedding, gourmet meals, water bowls, and more treats! As an added bonus, the hotel features its own private dog park, complete with a fire hydrant, watering stations, and other fluffs eager to make a new friend. You can also request a goldfish upon arrival for the duration of your stay. (photo credit: The Roxy Hotel NYC)
Learn more about this NYC hotel that gladly takes dogs.
4. The TWA Hotel at JFK Airport

If you're staying in New York City for an overnight layover before jet-setting elsewhere, consider a stay in the new TWA Hotel at JFK Airport. It's a cat-friendly hotel that also allows large dogs and small dogs alike. Re-opened as a full-fledged hotel in 2019, The TWA Hotel at JFK Airport is infused with retro fun that you and your fur-friend will get a kick out of. There's a $25 fee per pet. (photo credit: The TWA Hotel at JFK Airport)
Discover more about this pet-friendly hotel in New York.
5. The Benjamin Hotel

The Benjamin Hotel makes our list of best pet-friendly hotels in New York City for a couple of reasons. First, it's a gorgeous stay in the heart of Midtown East near Grand Central Station. Second, the hotel allows dogs and cats of all sizes for $60 flat (max two) and provides pet beds and bowls for free. Third, we love that The Benjamin donates part of its profits to Animal League, a no-kill shelter in NYC.
See what this dog and cat-friendly hotel has to offer.
Join the conversation on purrch
We've shared our favorites, now we'd love you to share yours. Why? Because we believe the best advice comes from real-life pet parenting experiences. That's what the purrch app is all about. So go ahead and spill the "pet-friendly hotel" beans like Olliethecavapoo recently did. Tell us how your pet-friendly hotel spoiled your dog or cat. Were there any dog or cat perks included in your stay? Download the app here and join the pet parent conversations on purrch.
Have a personal experience related to this food?
Share your experience on the purrch app and help other pet parents like you!